Vegetarian Potluck
Weds July 12 — 6:00 pm at OMNI
Very special event this month!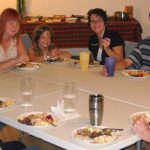 SHARI WITHEY ON FERMENTATION
Shari Withey from Willow Bend Garden will offer a fermentation workshop after our July 12 Potluck meal. Dinner starts at 6:00, workshop at 6:30.
Please bring: veggies and herbs from your garden, market vendor or health food store, one or two jars, filtered water (Healthy Grocers has a gallon for 25 cents) …Shari will bring all the magic to make your own batch of fermented probiotic veggies.
Probiotics come in many forms ….Fermenting our in season produce is a great way to preserve, increase nutritional value and enhance flavors of our bounty…Remember the deli pickles from the barrel???? well they were fermented….That is what Shari will teach us how to do w/ our own harvest….Be creative…if you like it raw you will love it fermented.
Fermentation is as old as life itself. At some point, humans learned to guide the process to repeat especially tasty results. These processes have been handed down and passed around, creating beloved foods and national dishes. The most familiar fermented foods are made using lacto-fermentation.
LACTIC BACTERIA
Most people think about beer or wine when they hear the term fermentation. While certain yeasts are used to convert the sugars in grape juice or grains into alcohol, it is bacteria that are responsible for lacto-fermentation. The "lacto" portion of the term refers to a specific species of bacteria, namely Lactobacillus. Various strains of these bacteria are present on the surface of all plants, especially those growing close to the ground, and are also common to the gastrointestinal tracts, mouths, and vaginas of humans and other animal species.
Lactobacillus bacteria have the ability to convert sugars into lactic acid. The Lactobacillus strain is so named because it was first studied in milk ferments. These bacteria readily use lactose or other sugars and convert them quickly and easily to lactic acid. However, lacto-fermentation does not necessarily need to involve dairy products.
Lactic acid is a natural preservative that inhibits the growth of harmful bacteria. (Read more about preserving food with lacto-fermentation.) Beyond preservation advantages, lacto-fermentation also increases or preserves the vitamin and enzyme levels, as well as digestibility, of the fermented food. In addition, lactobacillus organisms are heavily researched for substances that may contribute to good health.
Peace and courage, from Shari