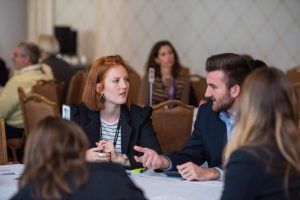 Tornado's Regional Conference Citizens Climate Lobby
Friday Feb 16- Feb 18
St Scholastica Conference Center,
1205 S. Albert Pike, Fort Smith, AR 72903

Registrations still being taken.
Finding Common Ground: Listening for shared values and opportunities for collaboration
In this is challenging time, we are engaged in building relationships and discovering what it will take to enact effective national legislation in today's political climate. The rapid growth of the bipartisan Climate Solutions Caucus in the House of Representatives is evidence of the high level of climate awareness and advocacy in our country. As we work to get a carbon fee and dividend bill introduced in Congress, we will focus on our roles in negotiating such a bill through the legislative process to see it become law!
Please join us for a weekend full of learning experiences suited for all volunteers, from veterans to first timers. Get to know your fellow volunteers and create wonderful memories while recharging that climate advocate energy!
For more information, including the tentative agenda and registration options, visit: https://donate.citizensclimateeducationcorp.org/fort-smith/events/2018-tornadoes-regional-conference/e158569