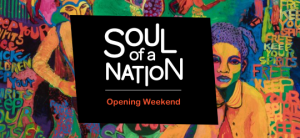 Celebrate the US debut of
Soul of a Nation: Art in the Age of Black Power!
February 3 – livestream all day!
Checkback HERE for the livestream event
Soul of a Nation shines a light on the vital contribution of Black artists to an important period in American history and art. Featuring the work of 60 artists, this landmark exhibition is a rare opportunity to see era-defining artworks that changed the face of art in America.
On February 3, we will welcome exhibition artists and curators to the museum for Soul of a Nation: Artists in Conversation, a day-long symposium featuring insightful conversations about art, politics, music, and community in the age of Black Power.
Tickets are sold out; but don't worry, we will live stream the program for free. There are three ways to watch live:
Watch on your own. Check the website the day of.
Watch the live stream here at the museum. Reserve a free ticket.
Become a live stream host. Register yourself or your organization as a host site and invite friends and family to watch with you. Registration required.*