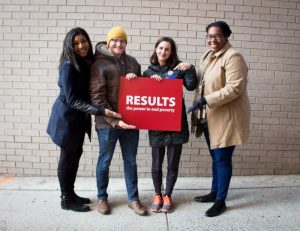 RESULTS!
Thursday Oct 19 – 6:00 pm – Fayetteville Library
Join Jan VanSchuyver and friends for a special advocacy workshop. Only a few seats still open.
"How can I make a difference?" It's a question many of us are asking these days. In addition to helping locally, many are turning to advocacy – influencing Congress to make decisions that impact lives in a positive way.
This workshop will clear up some of the mystery of advocacy and empower you with takeaway tools that you can begin using immediately to influence your members of Congress for a better world.
Brought to you by RESULTS, a grassroots advocacy organization committed to end of poverty, this workshop will use global poverty issues as our centerpiece issue of the night as we learn and practice new tools, but these tools are highly adaptable to many issues you may care about.
Thu, October 19, 2017
6:00 PM – 7:30 PM CDT
Fayetteville Public Library Leverence Room
(the round room on the second floor next to the computer lab)
401 W Mountain St, Fayetteville, AR
REGISTRATION REQUIRED
https://howcanimakeadifferencefayetteville.eventbrite.com
Space is very limited, so if you are coming, please use the above link to register as soon as possible so we will hold a space for you. And if you find you can't come after you've registered, please let me know so I can invite someone else.