It Happened! Sat Nov 4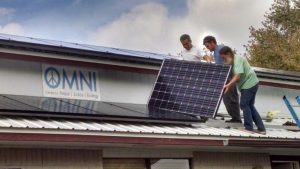 It was a beautiful sight, watching a smooth team work together to put this roof together. All the panels are in place. This week the final wiring will be finished and the city and Swepco should make their inspections. Next weekend the job will be to wire them all up to the inverter, and soon the system will be ready to plug into the electric grid.
Help Fund Sustainable Energy for OMNI, and Show Arkansas the Future! Walk our talk together. Donate to see NWA lead the way.
OMNI Solar Project
Solar Installation Day video by Orlo Stitt