Peace, Justice & Ecology Heroes Page
Welcome to the Peace, Justice & Ecology Heroes Page! Here, you can read up on some of the most important figures, or heroes, in the struggle for peace, justice, and an ecologically sound earth. We aim to describe one hero per month, during the month the hero was born. Please enjoy learning more about these inspiring individuals, and provide comments on each entry as you're moved to do so! Information compiled by Julie Thacker.
---
JEANNETTE RANKIN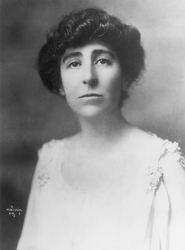 Jeannette Pickering Rankin was born June 11, 1880 in Missoula County, Montana. During her childhood she became aware of and was haunted by the slaughter of American Indians in Montana and at Wounded Knee, which may have led her to becomebecame a lifelong pacifist, suffragist and human rights advocate. In 1908 she became a social worker in New York City and agreed with Jane Addams that slum conditions were worsened by women's inability to vote. She argued that women were being taxed without representation, echoing the famous credo of the American Revolution and joined in the women's suffrage movement. She was hired as an organizer by the New York Women's Suffrage Party and the National American Woman Suffrage Association (NAWSA). In 1914 she was instrumental in enabling women to vote in Montana. In 1917 she became the first female member of Congress elected to the House of Representatives. That year she voted against entering WWI, earning her immediate vilification by the press.
In 1919 she introduced legislation to provide state and federal funds for health clinics, midwife education, and visiting nurse programs in an effort to reduce the nation's infant mortality. She campaigned for legislation to promote maternal and child health care. She was founding Vice-President of the American Civil Liberties Union and a founding member of the Women's International League for Peace and Freedom.
In 1940, Rankin was re-elected to Congress, this time on an anti-war platform. She voted against entering WWII, being the only member of Congress to do so. By 1942, Rankin's antiwar stance had become so unpopular that she did not seek re-election. From 1947 to 1971 she traveled to India seven times to study the non-violent civil disobedience methods of Mahatma Gandhi. She opposed the Korean War and was against U.S. military action in the Vietnam War. In 1968 she led a protest demonstration of thousands of women in Washington D.C. In 1969 she participated in antiwar marches in Georgia and South Carolina. She died at age 92 on May 18, 1973. A play based on the life of Rankin entitled A Single Woman was produced in 2004, and a film by that name was made in 2008. Today the Jeannette Rankin Foundation honors her name and legacy.
"There can be no compromise with war; it cannot be reformed or controlled; cannot be disciplined into decency or codified into common sense; for war is the slaughter of human beings, temporarily regarded as enemies, on as large a scale as possible."– Jeannette Rankin 1929
"It is unconscionable that 10,000 boys have died in Vietnam…. If 10,000 American women had mind enough they could end the war, if they were committed to the task, even if it meant going to jail."–Jeannette Rankin 1967
"You can no more win a war than you can win an earthquake."–Jeannette Rankin
Links:
Women of the West Museum: http://theautry.org/explore/exhibits/suffrage/chapmancatt_full.html
About.com: http://womenshistory.about.com/od/congress/a/jeanette_rankin.htm
About Jeannette Rankin Foundation: http://www.rankinfoundation.org/about
---
MAHATMA GANDHI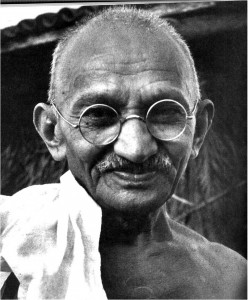 Gandhi was born October 2, 1869 as Mohandas Karamchand Gandhi in Porbandar, India as a Hindu. Later in life when asked if he was Hindu, he replied "Yes I am. I am also a Christian, a Muslim, a Buddhist and a Jew." He was a prominent figure of the Indian independence movement. He promoted the philosophy of satyagraha (resistance to tyranny through mass civil disobedience) and ahimsa, or total nonviolence. He believed that public servants should lead a simple life. He renounced the western lifestyle he had led in South Africa, where he had enjoyed a successful legal practice. He was a strict vegetarian and wrote The Moral Basis of Vegetarianism. He believed the spiritual principle that knowledge and work are not separate, and promoted an educational curriculum based on Nai Talim (basic education for all). He was a self-described philosophical anarchist. He explains his philosophy and way of life in his autobiography The Story of My Experiments with Truth. Other writings are published in The Collected Works of Mahatma Gandhi.
In 1930 Gandhi led his followers in the Non-cooperation movement protesting the British-imposed salt tax in the Dandi Salt March. In 1942, with the Congress Party, he launched the Quit India civil disobedience movement, the most definitive revolt aimed at securing the British exit from India. He was the first to apply the principle of nonviolence in the political field on a huge scale.
October 2, Gandhi's birthday, referred to as Gandhi Jayanti, is a national holiday in India and in 2007 was declared the International Day of Non-Violence by the United Nations General Assembly. Schools in many countries honor Gandhi when they observe the School Day of Non-violence and Peace (DENIP) on January 30, the anniversary of his death. He was runner-up to Albert Einstein as Person of the Century in 1999.The Government of India annually awards the Mahatma Gandhi Peace Prize to distinguished social workers, world leaders, and citizens.Gandhi was senselessly assassinated in 1948. His life was portrayed in the 1982 Academy Award winning film Gandhi.
"An eye for an eye makes the whole world blind."– Mahatma Gandhi
"I object to violence because when it appears to do good, the good is only temporary; the evil it does is permanent."– Mahatma Gandhi
Source: Wikipedia
Further reading:
---
JANE ADDAMS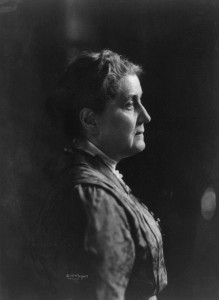 Jane Addams was born September 6, 1860, in Cedarville, Illinois. She was a social and political activist, author, lecturer, pacifist, public intellectual, and community organizer. She advocated research aimed at determining the causes of poverty and crime. She supported Women's suffrage.
In 1889 she became the co-founder of Hull House, the first settlement house in the United States. Its Chicago neighborhood was a mix of various European ethnic groups. With her friend and co-founder, Ellen Gates Starr, she developed three ethical principles: teaching by example, practicing cooperation, and practicing social democracy. She strongly advocated justice for immigrants and Afro-Americans, and was a member of the NAACP. The Immigrants' Protective League, the Juvenile Protective Association, and a juvenile psychopathic clinic, among other projects, were implemented by members of Hull House. It eventually became a 13-building settlement complex and a world center of social reform activity. She co-authored the Hull-House Maps and Papers in 1893.
Jane Addams was a chartered member of the American Sociological Society, founded in 1905. She mediated during the Triangle Shirtwaist Factory garment worker's strike in 1910. She was influential to her friends and colleagues of the Chicago School of Sociology.
In 1915 she was elected to be the national chairman of the Women's Peace Party. She was elected president of the Women's International League for Peace and Freedom that same year, and attended the International Woman's Conference in the Hague. She was chosen to head the commission to find an end to WWI, which was the first significant international effort by women against the war. Addams and her co-delegates documented their experiences and published Women at the Hague.In 1931 Jane Addams was the first American woman to be awarded the Nobel Peace Prize, but she could not personally accept it because of her failing health. She died May 21, 1935. While her life focused on the development of individuals, her ideas continue to influence social, political, and economic reform in the United States and internationally.
"The good we secure for ourselves is precarious and uncertain until it is secured for all of us and incorporated into our common life." — Jane Addams
Sources:
Wikipedia
Immigrants' Protective League of Chicago http://dig.lib.niu.edu/ISHS/ishs-1973autumn/ishs-1973autumn-271.pdf
Hull-House Maps and Papers book review:
http://www.teachspace.org/personal/research/addams/maps_and_papers.html
Women at the Hague book summary (Prometheus Books) :http://www.prometheusbooks.com/index.php?
main_page=product_info&products_id=1317&zenid=n97ubule09st0sdb87eqkimbi4l
Nobelprize.org http://nobelprize.org/nobel_prizes/peace/laureates/1931/addams-bio.html
Link: National Association for the Advancement of Colored People (NAACP)
---
HENRY DAVID THOREAU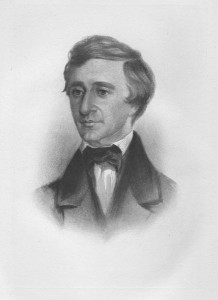 Henry David Thoreau was born July 12, 1817 (as David Henry Thoreau) in Concord, Massachusetts. He was an author, poet, abolitionist, naturalist, tax resister, development critic, surveyor, historian, philosopher, and leading transcendentalist.He built a cabin on Ralph Waldo Emerson's land near the shores of Walden Pond in 1845, where he wrote his best known book Walden. He wrote his inspiring essay, Civil Disobedience, or Resistance to Civil Government after spending a night in jail for refusing to pay six years of delinquent poll taxes. The essay gained little attention at first, but today is regarded as a classic American work. He opposed the government for waging the Mexican-American War that would extend slavery, and he eloquently lectured against slavery in Slavery in Massachusetts. In APlea for Captain John Brown he supported John Brown's efforts to end slavery.
Thoreau's books, articles, essays, journals and poetry total twenty volumes. He became fascinated with natural history and wrote about ecology and the environment. His writings have influenced many public figures. Political leaders and reformers Mahatma Gandhi, John F. Kennedy, Martin Luther King, Jr., Leo Tolstoy, and Supreme Court Justice William O. Douglas all spoke of being strongly affected by Thoreau's work, particularly Civil Disobedience. Martin Luther King, Jr. reread it several times, and said "…The teachings … came alive in our civil rights movement; indeed they are more alive than ever before. Whether expressed in a sit-in at lunch counters, a freedom ride into Mississippi, a peaceful protest in Albany, Georgia, a freedom ride into Mississippi, a peaceful protest in Albany, Georgia, a bus boycott in Montgomery, Alabama, these are outgrowths of Thoreau's insistence that evil must be resisted and that no moral man can patiently adjust to injustice." Henry David Thoreau died May 5, 1862. Many people are still inspired by his words:
"If a man does not keep pace with his companions, perhaps it is because he hears a different drummer. Let him step to the music which he hears, however measured or far away."
Source: Wikipedia
Further reading:
---
ELIZABETH GURLEY FLYNN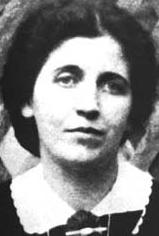 Elizabeth Gurley Flynn was born August 7, 1894 in Concord, New Hampshire. She became a labor leader, activist, and feminist who played a leading role in the Industrial Workers of the World (IWW). She was a founding member of the American Civil Liberties Union and a visible proponent of women's rights, birth control, and women's suffrage. She organized campaigns among garment workers. During the war she played an important role in leading the campaign for equal opportunity and pay for women, and the establishment of day care centers for working mothers. Author Theodore Dreiser described her as "an East Side Joan of Arc."
In 1909 she participated in a free speech fight in which she chained herself to a lamppost in order to delay arrest. She later accused the police of using the jail as a brothel, an accusation that prompted them to try to confiscate all copies of the Industrial Worker. In the 1920s she was active in the campaign against the conviction of Sacco and Vanzetti. She was an active and vocal supporter of the 1934 West Coast Longshore Strike. Her influence as an activist was far-reaching. The popular song "Rebel Girl" by was written by Joe Hill to honor her. She died September 5, 1964.
"History has a long-range perspective. It ultimately passes stern judgement on tyrants and vindicates those who fought, suffered, were imprisoned, and died for human freedom, against political oppression and economic slavery." —Elizabeth Gurley Flynn
Source: Wikipedia
---
HELEN KELLER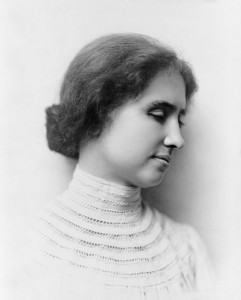 Helen Adams Keller was born on June 27, 1880, in Tuscumbia, Alabama. She was not born blind and deaf. As a baby, she contracted what may have been scarlet fever or meningitis, which left her deaf and blind. At age 24 she graduated from Radcliffe, becoming the first deaf blind person to earn a Bachelor of Arts degree. She became a world-famous speaker and prolific author. She is remembered as an advocate for people with disabilities. She was a pacifist, outspoken in her opposition to war, and a suffragist. In 1920 she helped found the American Civil Liberties Union (ACLU). She traveled with her teacher, Anne Sullivan, to over 39 countries. She met every U.S. President from Grover Cleveland to Lyndon B. Johnson. She was friends with Alexander Graham Bell, Charlie Chaplin, and Mark Twain.
Helen Keller was a member of the Socialist Party and actively campaigned and wrote in support of the working class from 1909 to 1921. She and her friend Mark Twain were both considered radicals at the beginning of the 20th century. Their political views have been forgotten or glossed over in popular perception. Helen Keller joined the Industrial Workers of the World (known as the IWW or the Wobblies) in 1912. She wrote for the IWW between 1916 and 1918. She published 12 books and several articles. In 1915 she and George Kessler founded the Helen Keller International (HKI) organization, which is devoted to research in vision, health and nutrition. Reflecting on her family lineage, in her first autobiography, she stated "… there is no king who has not had a slave among his ancestors, and no slave who has not had a king among his." Her life has been an inspiration for many documentaries and movies, including The Miracle Worker. On September 14, 1964, President Lyndon B. Johnson awarded her the Presidential Medal of Freedom. In 1965 she was elected to the e National Women's Hall of Fame at the New York World's Fair. Helen Keller spent much of her later life raising funds for the American Foundation for the Blind. She suffered a series of strokes in 1961, and later died in her sleep June 1, 1968 in Westport, Connecticut.
"Death is no more than passing from one room into another. But there's a difference for me, you know. Because in that other room I shall be able to see." –Helen Keller
"It is a terrible thing to see and have no vision." —Helen Keller
Source:Wikipedia
Further reading:
---
MOTHER JONES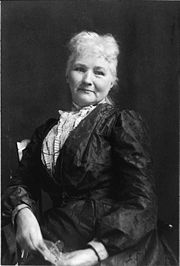 Mary Harris Jones (Mother Jones) was born in Cork, Ireland, May 1,1830. A turning point in her life was when she lost her husband and all her four children to yellow fever in 1867. After losing her dressmaking business in the 1871 Great Chicago Fire, she joined the Knights of Labor, a predecessor to the Industrial Workers of the World (IWW or "Wobblies"). In 1901, the workers who were employed in the Pennsylvania silk mills went on strike, many of them being young female workers who were demanding they be paid adult wages. John Mitchell, the president of the United Mine Workers Union (UMWA), brought Mother Jones to northeast Pennsylvania to encourage unity among the striking workers, and to do so, she encouraged the wives of the workers to organize into a militia, who in turn would wield brooms, beat on tin pans and shout "Join the union!"
She was adamantly opposed to child labor. In 1903 Jones organized children, who were working in mills and mines at the time, to participate in the "Children's Crusade", a march from Kensington, Philadelphia, Pennsylvania, to Oyster Bay, New York, the home of President Theodore Roosevelt, with banners demanding "We want to go to School and not the mines!" As Mother Jones noted that many of the children at union headquarters had missing fingers and other disabilities, she attempted to get newspaper publicity about the conditions in Pennsylvania regarding child labor. However, the mill owners held stock in essentially all of the newspapers. When the newspaper men informed her that they could not advertise the facts about child labor because of this, she remarked "Well, I've got stock in these little children and I'll arrange a little publicity."
During the bitter 1989-90 Pittston Coal strike in Virginia, West Virginia and, Kentucky the wives and daughters of striking coal miners, inspired by the still-surviving tales of Mother Jones' legendary work among an earlier generation of the region's coal miners, dubbed themselves the "Daughters of Mother Jones." They played a crucial role on the picket lines and in presenting the miners' case to the press and public. It's been suggested that the "she" in "She'll Be Coming 'Round the Mountain", one of many labor protest songs, was a reference to Mother Jones and her travels to the Appalachian Mountains coal mining camps promoting the unionization of the miners. Woody Guthrie wrote "Union Maid" a song calling for women to emulate Mary Harris "Mother" Jones by fighting for both women's rights and workers' rights. She died November 30, 1930, at the age of 93. She was honored by labor activist Gene Autry's song, "The Death of Mother Jones." The magazine Mother Jones, was named after her.
"Today the white child is sold for two dollars a week to the manufacturers." –Mother Jones
"And who is responsible for this appalling child slavery? Everyone." –Mother Jones
"If they want to hang me, let them. And on the scaffold I will shout Freedom for the working class!" –Mother Jones
Source: Wikipedia
Further reading:
Biography, "Mother" Mary Harris Jones : http://www.lkwdpl.org/wihohio/jone-mar.htm
Haymarket affair http://en.wikipedia.org/wiki/Haymarket_affair
---
MARTIN LUTHER KING, JR.

Martin Luther King, Jr. was born January 15, 1929 in Atlanta, Georgia. Originally named Michael King, his father soon changed both their names to Martin Luther to honor the German priest and theologist Martin Luther.He opposed the Vietnam War on the grounds that the war took money and resources that could have been spent on social welfare services and the War on Poverty. In his most public 1967 statement "Beyond Vietnam" he said, "A nation that continues year after year to spend more money on military defense than on programs of social uplift is approaching spiritual death". He accused the United States of killing a million Vietnamese, mostly children.
King is frequently referenced as a human rights icon today. He fought for the advancement of civil rights in the United States and around the world using nonviolent methods, following the teachings of Mahatma Gandhi. He was inspired by Gandhi's success with nonviolent activism. In 1959 he visited Gandhi's India birthplace with assistance from the Quaker group and the American Friends Service Committee, a trip that profoundly affected him, deepening his understanding of non-violent resistance and his commitment to America's struggle for civil rights. He was inspired by Gandhi's success with nonviolent activism. He was also influenced by Howard Thurman who counseled him to dedicate himself to the principles of nonviolence.
He is best known as a leader in the African American civil rights movement. In his 1963 "Letter from Birmingham Jail" he wrote, "Injustice anywhere is a threat to justice everywhere." His 1963 "I Have a Dream" speech was a defining moment and facilitated passage of the the Civil Rights Act of 1964. In 1964 he became the youngest person to receive the Nobel Peace Prize for his work to end racial segregation and racial discrimination through civil disobedience and other nonviolent means.
Martin Luther King, Jr. was ruthlessly assassinated on April 4, 1968 in Memphis, Tennessee. He was posthumously awarded the Presidential Medal of Freedom in 1977 and the Congressional Gold Medal in 2004. Coretta Scott King established the King Center in 1968 to honor her husband. Martin Luther King, Jr. Day was established as a U.S. federal holiday in 1986.
"The nonviolent approach does not immediately change the heart of the oppressor. It first does something to the hearts and souls of those committed to it. It gives them new self-respect; it calls up resources of strength and courage that they did not know they had. Finally it reaches the opponent and so stirs his conscience that reconciliation becomes a reality."—Martin Luther King, Jr.
References:
Source: http://www.stanford.edu/group/King/liberation_curriculum/speeches/beyondvietnam.htm "Beyond Vietnam" (Liberation Curriculum)
Source: Wikipedia
Source: Peace quotes : http://www.indianchild.com/Peace_Quotations.htm
Further reading:
http://www.stanford.edu/group/King/liberation_curriculum/speeches/beyondvietnam.htm
Martin Luther King Online : http://www.mlkonline.net/
The King Center : http://thekingcenter.org/
---
IRWIN ABRAMS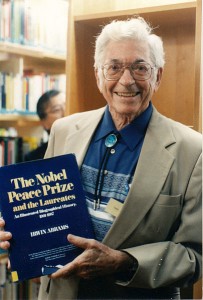 Irwin Abrams was born in San Francisco February 24, 1914. Born Jewish, he became a Quaker in the late 1930s, and being Quaker, to fulfill his obligations as aconscientious objectorduring World War II, he worked with the American Friends Service Committee (AFSC). He studied international relief work, and from 1943 to 1945 he directed training for AFSC relief workers. Afterwards, he organized the Quaker Workcamps International Program, which led him to the ideal of pacifism and nonviolence. He began believing that for one to change the world, one must change oneself. He was inspired by British philosopher Gerald Heard, who was involved in the higher consciousness development movement. Abrams had faith and hope in humankind and believed that there is "that of God" in everyone.
He was a university professor at Antioch College in Yellow Springs, Ohio 1914-2010, and helped organize the Antioch Education Abroad program. He served as Coordinator of International Programs for the Great Lakes Colleges Association. After retiring, he wrote The Nobel Peace Prize and the Laureates: An Illustrated Biographical History, 1901-2001, which was recognized as an outstanding reference work by the American Library Association. He wrote the Nobel Peace Lectures, 1971-2005, and Words of Peace. His dissertation, A history of European Peace Societies, 1867-1899 won the Charles Sumner Peace Prize. He became a leading authority on the Nobel Peace Prize and the history of the international peace movement. He was honored many times, and in 2000 was given a distinguished lifetime service award by the Peace History Society and the Peace History Commission of the International Peace Research Association. He was inducted into the "Walk of Fame" in Dayton, Ohio in the fall of 2007. He developed and led the European Urban Term, known today as the Europe in Transition Program.
He met many peace leaders including the Dalai Lama, Desmond Tutu, Willy Brandt, Martin Luther King, Jr., and Jimmy Carter. He was friends with laureate, José Ramos-Horta, the current president of East Timor. He stated that we need to do more to celebrate the real heroes of our time, our champions of peace, of human dignity, and of moral courage.
Irwin Abrams died peacefully December 16, 2010. Generally, 96 years seems like a long life, but in his case, 96 years was way too short. May his works and writings continue to inspire the world.
References:
Source: Wikipedia
Source: http://www.irwinabrams.com/bio/index.html Irwin Abrams biography
Source: http://www.irwinabrams.com/bio/pvd.pdf Irwin Abrams –

Historian and champion of the Nobel peace prize by Peter van den Dungen

Link: http://aea.antioch.edu/IrwinAbrams.html Antioch University
Link: http://aea.antioch.edu/ Antioch Education Abroad (AEA)
Link: http://www.peacehistorysociety.org/ Peace History Society