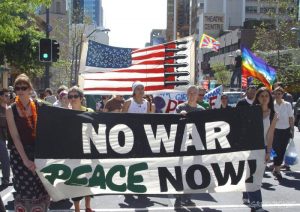 Parade for Peace !
Sunday March 18 – 2;00 – Walton Arts Center
Starts corner of Dickson and West Streets – Rally at Town Center
On March 18th from 2:30 to 4:30 p.m., the Arkansas Poor People's Campaign, the OMNI Center, and Arkansas Nonviolence Alliance are holding a Parade for Peace. The parade starts at the corner of Dickson & West Streets, in front of the Walton Arts Center, and ends with a rally at the Town Center.
The parade will feature multiple floats, dancing troops and large art projects.
This event is also sponsored by Compassion Fayetteville, Women's Action for a New Direction (WAND), and Arkansas Peace and Justice Coalition.