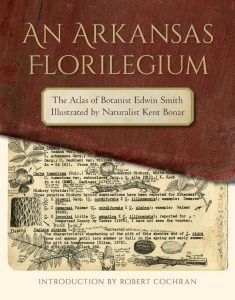 Kent Bonar's book signing of
"An Arkansas Florilegium"
Dec. 14 – 7:00-9:00 pm – Botanical Gardens, Hiway 265
Illustrator Bonar himself will be at the Botanical Garden of the Ozarks in Fayetteville (Hiway 265) on Dec. 14 (Thursday) from 7-9pm to sign his book. He's one-of-a-kind, perhaps as close to Thoreau as any of us will ever come, and a walking miracle (literally). I knew him back in the days we lived in Nail in Newton County 32 yrs ago.
Kent walks all over the Ozark mountains, has no car, lives with about 20 dogs in a very small house, has one eye, and has produced a masterpiece of invaluable information that we and generations to come will treasure. If you have a botanist bone in your body, come check out his book (and maybe buy it too!).
Please share this information with all your friends that may have an interest.
Thanks! Fran Alexander
"An Arkansas Florilegium: The Atlas of Botanist Edwin Smith Illustrated by Naturalist Kent Bonar"