Saturday June 17 – 11:00 am – Fayetteville Town Center Peace Sphere
Rally – Gospel Music – Ice Cream.  You can't miss.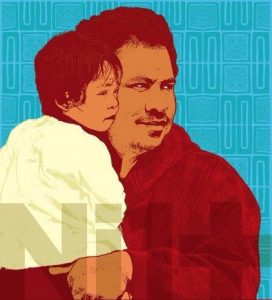 Refugees, immigrants and allies will gather the day before Father's Day, Saturday, June 17th, for a rally, press conference and gospel show.
Father's Day should be a celebration of relaxation and family unity. Sadly, in Washington County, Sheriff Tim Helder is facilitating the deportation of not only fathers, but also mothers and children, even though he is not legally required to do so. All immigration authorities have to do is ask, and Sheriff Helder will detain immigrants even if they have not been convicted of any crime at all so that they can be deported. He is tearing apart families and hurting immigrants when he does not have to.
Come join us and celebrate Father's Day by helping Sheriff Helder
#LoveYourNeighbor
.We will meet at 11am on Saturday, June 17th, in the plaza of the Fayetteville Town Center just South of the Fayetteville Square. The address is 15 W. Mountain Street.
If it is raining, we will meet inside St. Paul's sanctuary.
After the rally and press conference, there will be gospel music from Fayetteville's own atheist- and queer-friendly The Gospel Hour, led by Adam Cox and Stephen Coger.
Spread the word with hashtags like: #DontDeportDad, #SheriffHelderStop,#Not1More, and #NiUnaMas #GospelPowerGospelHour #WashingtonCoSO#DoBetterWaCo
Wear blue!
For more information and to get involved, check outwww.arkansaslaw.org/news