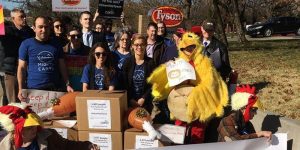 Clean It Up, Tyson – 2018 kickoff
Concerned about water pollution and climate change? Come to Mighty Earth's
"Clean It Up, Tyson"
2018 kickoff.
Wednesday, January 24, 7:00 – 8:00 p.m.
Farrell's Lounge, 311 W. Dickson St., Fayetteville
Complimentary tickets here
The meat industry is the leading source of water pollution and poses an enormous threat to our climate. As the largest meat company, Tyson has played a central role in bringing about many of our most dire environmental problems. We're working to change this.
The meat industry's biggest impact comes from the corn and soy fed to the farm animals. The feed grown at an industrial scale to feed livestock pollutes waterways with excess fertilizer, depletes the soil, and contributes to the destruction of prairie landscapes. It also causes the release of nitrous oxide, a greenhouse gas 300 times stronger than carbon. The practices used to grow these grains threaten to radically destabilize our climate.
We don't need to choose between good food and a clean environment. If we get large companies like Tyson Foods to change their practices, the entire meat and feed industry will change for the better.
Join other concerned residents and local organizations for the 2018 kickoff on Weds, 1/24 to learn more about the campaign, help us strategize, and take action!
RSVP here to let us know you can make it, and bring a friend:
To learn more about how you can get involved before the meeting, please contact:
Michael Greenberg, NWA field organizer for Mighty Earth
michael@greencorps.org — 2404219894