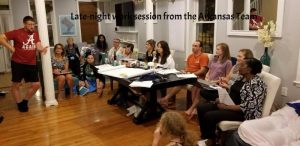 Just Wow! This year, CCL Arkansas sent 18 people to the Annual Conference to remind our legislators that climate change cannot be ignored, and to have a whole lotta fun. Here's a New York Times blog post that gives background and history about this dynamo group: New York Times on Citizens Climate Lobby
OMNI is fortunate to have these connections to help us be effective about climate change. Citizens Climate Lobby is also fortunate that there are OMNI people who are Southerners ready to take on the challenge of convincing these recalcitrant Southern politicians that they can't hide from this issue. Our local team is an amazing group, led by deeply caring and committed people who've jumped in to educate themselves, and are not giving up. Uh huh.
The general sense from conference attenders is that even though the President will keep being the way he is, that among Congresspeople and their staffs, a tide has turned about climate change. They're still not ready to be public, but most denial is weak or gone.
This year Arkansas supported our Team by calling Congressmen as they got ready to make their visits. That kind of thing really helps! CCL is always looking for people with a passion. If you want to be a part of this vibrant and important effort, the next meeting will be July 12, 7:00 pm in the OMNI Library.