Mighty Earth
Monday Nov 30 – 10:00 am Tyson's Headquarters Springdale
Rally for Clean Water!
Come show your support for how much good food can do!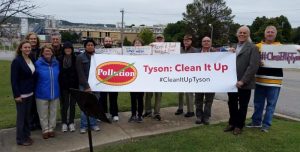 Interested in coming? Let us know! RSVP to our Facebook event to stay up to date on additional parking information, speaker announcements, and more! http://bit.ly/TysonRally
https://www.facebook.com/events/186787121885145/
After almost 3 months of grassroots organizing in Northwest Arkansas and in six other cities around the country, we are making real progress on our campaign!
Across the country we have collected tens of thousands of petitions, made hundreds of calls to Tyson's headquarters, and have gotten over 250 local organizations and businesses to sign on to our coalition.
And now it's time to show up to let Tyson know that members of this community want them to clean up their act and protect our waterways! We'll have speakers from around the country talk about the importance of addressing water pollution from the meat industry and end the event by marching to Tyson's Headquarters to deliver the tens of thousands of petitions we have collected!
We'll see you there!
——-
WANT TO GET INVOLVED BEFORE NOVEMBER 30? Contact jessye@greencorps.org
Upcoming volunteer opportunities
Phonebanking sessions: 6:30pm at the bar at Whole Foods (3425 N College Ave, Fayetteville)
Thursday, 11/16
Sunday, 11/19
Tuesday, 11/21
Sunday – Wednesday, 11/26 – 11/29
---