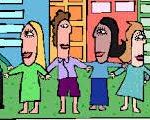 People Power Project
Tues July 25 – 6:30 pm – OMNI Center
With the help of ACLU and several local groups, we're working to help protect immigrants in Northwest Arkansas, and we have a plan. We are reaching out to our community and local elected officials for dialogue on policy and law to making Northwest Arkansas a welcoming place. You're invited to join in.
People Power Project Washington County
---